Among Joe Tubb's many professional accomplishments is his contribution to The Seam. We are incredibly grateful for his collaboration, mentorship and support in helping to shape our company into what it is today.
Take a look at this excerpt from PCCA. We wish you all the best in retirement, Joe!
---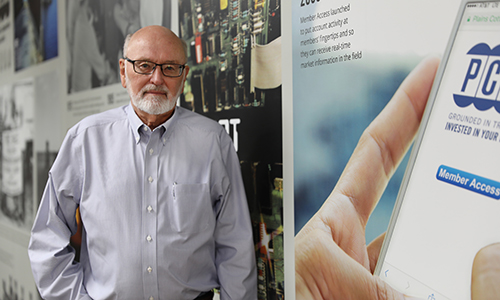 [Midway through his career] came the transformation of TELCOT, PCCA's web-based cotton marketing software, to The Seam®, an online cotton marketing platform. Tubb was heavily involved in the design and set up of the new platform.
"TELCOT was built by PCCA in the mid '70s as a way to bring producers and merchants together in an electronic marketplace," Tubb said. "For the first time, the producer was able to say, 'this is what I would like for my cotton.' Before, he always had to ask. PCCA guaranteed the trade on both sides by taking title to the cotton, paying the member, and invoicing the merchant. Loan equities were added in the early '80s, along with a counter-offer function."
In 2000, PCCA and three cotton merchants came together and decided to offer TELCOT's capabilities to the rest of the country, as had been done in Texas and Oklahoma since its inception, and thus The Seam was born.
"The Seam came about at the height of the dot com era," Tubb said. "We actually developed The Seam software, converted TELCOT to a web-based platform, and re-branded it to make it The Seam."
Today, The Seam is a leading provider of trading and technology solutions enabling food and agribusiness companies to operate profitably and efficiently throughout a sustainable global supply chain.
Read more on Joe Tubb in this article by the team at PCCA.